about us - OLD
HairMax is a technology company dedicated to improving and enriching lives by incorporating the science of hair growth into every product we sell. We never forget that behind each sale is a real person who has placed their trust in us, someone frustrated by hair loss and suffering from a blow to their confidence or self-esteem. We honor this trust by respecting our customers' concerns, helping them feel better about themselves and offering world class customer support along with high quality solutions.
With over 1.3 million laser devices sold in 170 countries since our founding in 2000, we have earned the distinction of being the undisputed leading global brand in at-home hair growth technology. The distinction endures because we continually raise the bar for each and every one of our products, which range from lasers to our proprietary hair care products and nutritional supplements. We go the extra mile to ensure that every product we develop and market conforms to the highest quality standards.
Competitors have come and gone while we have thrived by staying true to our commitment to provide the best products and services anywhere in the world. At HairMax, helping people re-grow their hair is not a sideline; it's the driving force behind everything we do. Our total focus. No exceptions. All we think about. Every day.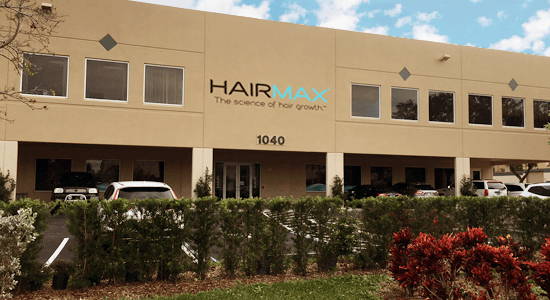 As one of the Directors of the company, I had my first introduction to laser therapy for baldness in 1999, at our founder's Laser Hair Clinic. At that time, I was 35 years old and had already been experiencing hair loss for five years. I had tried everything from topical solutions (which I found to be very inconvenient and messy - my hair looked worse than ever!) to vitamin supplements. Nothing worked. Then I heard about Laser Therapy. Laser Photo-Therapy, as it is referred to in the medical community, is a safe, effective therapy to treat hair loss without any reported side effects.
Soon after I started laser treatments at the Sydney Hair Clinic, my hair became thicker and fuller, my hair loss subsided and I re-grew a significant amount of lost hair. I also experienced a dramatic improvement in the condition of my hair and my dandruff also subsided. I was so amazed at the results that I began a working relationship with the founder of the Laser Hair Clinic, who was a pioneer in the use of Laser Photo-Therapy for hair. The idea of the HairMax LaserComb was born. We joined efforts to develop a prototype of an affordable hand-held laser therapy device for baldness treatment so everyone could experience the same exciting results that I had experienced. After several years of research, design and development, our efforts resulted in the HairMax LaserComb.
At Lexington International, our primary focus is to assist individuals suffering from the emotional affects of hair loss. Positive customer experiences as well as user satisfaction are our primary goals. We hope that after you have read this material, you will decide to try the HairMax LaserComb for yourself. It has worked successfully not only for me, but for tens of thousands of men and women just like you.
Yours truly,

We are one of only 14 manufacturing firms nationally to receive this highest government recognition for export activity from President Obama's administration. Lexington International LLC., Receives Prestigious 2009 U.S. President's E Award Recognizing Export Excellence.

HairMax's deeply held values are founded on 4 principles that govern the way we operate:
Put the customers' needs and well-being first: Without customers we don't have a business. We respect the emotional and deeply personal reasons they turn to us for help. Our dedicated employees are inspired by helping customers improve their lives, and they understand that when they put customers first, everybody wins.
Commit to continual product improvement and innovation: Since its inception in 2000, HairMax has delivered on its commitment to innovation by continually expanding its line of laser devices and developing hair care products and nutritional supplements that complement the laser treatments.
Invest heavily in scientific research: To date HairMax has invested in seven clinical studies at prestigious universities. These results have been published in five peer-reviewed medical journals.
Conform to the highest manufacturing standards in the industry: HairMax products consistently meet or exceed legal requirements and the expectations of our customers. We apply a rigorous quality management system, including compliance with all regulatory requirements, to ensure the highest possible environmental and safety standards. All manufacturing processes are state-of-the-art and ISO Quality Assured.
Innovative, High Performance Products
HairMax's tagline, "The Science of Hair Growth," is more than a slogan. It's our promise to you, and our guarantee, that science is built into every product we sell. HairMax is recognized as the pioneer of at-home hair regrowth technology and the undisputed global leader in the field. We've earned that recognition by developing cutting edge products that matter to people… products that change lives. Our mission to help others compels us to continue innovating, whether that means improving existing products or inventing new ones.
In 2015 HairMax introduced its reformulated HairMax for den•si•ty line of hair care products, incorporating additional ingredients known to promote hair and scalp health. That same year it debuted the revolutionary HairMax LaserBand 82 – the fastest at-home laser hair growth device in the world. At any given time there are several new products under development at the HairMax headquarters.
HairMax offers the most complete collection of advanced hair loss treatments and hair care products on the market. These include:
HairMax FDA Cleared* Laser Devices
HairMax for den•si•ty, Thinning Hair Care 
HairMax Dietary Supplements
HairMax Hair Fibers
Our customers know they can always count on HairMax to offer effective user-friendly products tailored to their lifestyle and wrapped in the luxury of HairMax's no-expense-spared quality.