Thinning Hair Care-old
Hair care reinvented – with four new high-performance hair care products by the brand that pioneered home use laser technology for hair growth. By applying the science of skin care to hair care, this 3-step system has been specially formulated to transform thinning hair into thicker, fuller looking hair, while rejuvenating and nourishing the scalp. Bringing the HairMax brand into a new category of hair care.
HairMax for den•si•ty
MAXimum Care For Your Thinning Hair. Inspired By The Science of Hair Growth.
STIMUL8 Shampoo
Deeply cleanses and prepares the scalp to receive bio-active ingredients.
EXHILAR8 Conditioner
Replenishes moisture and locks in hydration, strengthening and protecting hair.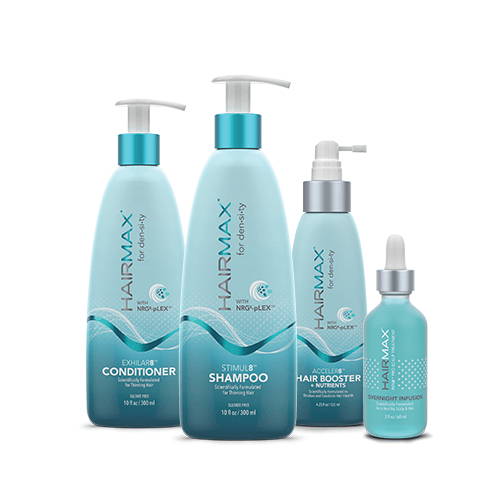 ACCELER8 Hair Booster
Directly targets the hair and skin, instantly transforming the hair by giving it a boost from the root out. With light activated ingredient.
RSN8 Pro Scalp Treatment
Rejuvenates, stimulates and nourishes the scalp, providing a strong foundation for healthy hair.
Blended with the proprietary, biologically active NRG8-pLEX™, the HairMax for Density Hair Care System is scientifically developed to energize and reactivate the hair. It is free of sulfates, parabens, gluten, silicone, contains only natural essential oils – and is NEVER tested on animals.  
Developed to go beyond simply treating thinning hair, this system focusses on hair as well as biological aging of the skin, delivering uncompromising quality to consumers and professionals worldwide. Recommended to be used as the complete 3-step system, as the products work synergistically together for maximum efficacy.
Supplements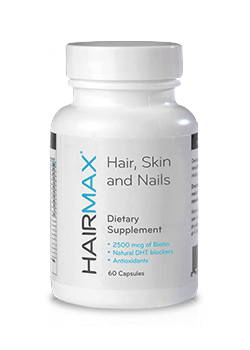 Dietary Supplements
Providing essential nutrients to help your hair look its best. Great for skin and nails too!
Hair Building Fibers
Natural keratin protein fibers, conceal hair loss & thinning with natural looking coverage.